North Carolina motorists will see some precious smiles thanks to a grant from The Cannon Foundation to Children's Cancer Partners of the Carolinas (CCP). The van provided bears the faces of North Carolina children battling cancer.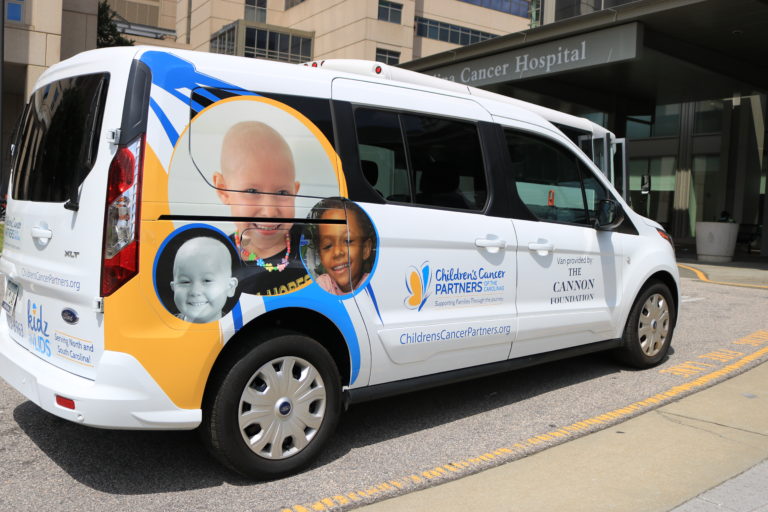 CCP is unique for its immediate, comprehensive and continuous support to children battling cancer, including travel assistance, lodging and emotional support throughout their perilous journey from diagnosis to age twenty-one.
"Cancer is the number one disease killer of children in the United States, but treatment facilities are extremely limited," said CCP Executive Director Laura Allen. "CCP walks alongside families in their darkest days, and this van will allow us to provide even more support for these North Carolina children."
The van has the faces of three North Carolina children, each with their own special story.
Gracie is a CCP child who lives in Maxton, N.C. Diagnosed with a malignant tumor in 2018, CCP was at Gracie's side as she underwent three courses of chemotherapy between her second and sixth birthdays at UNC Health in Chapel Hill.
"Now at six years old, Gracie is in remission and doing well," said Gracie's mom, Blair Locklear. "Thanks to her doctors at UNC and the support of Children's Cancer Partners, Gracie gets to do more of what she loves, like playing dress up, dancing, and building sandcastles."
Charlie is from Raleigh and was diagnosed with B-Cell ALL in November 2018 at the age of three. He had one 30-day stay at Duke Hospital in the beginning of his treatment, followed by 5 others — some planned for, others not — on top of regular treatment appointments at Duke. In March 2021, Charlie completed his treatments. Now at age seven, he enjoys doing parkour and competing on the local swim team in his hometown of Raleigh. Charlie also loves Super Wings, spending time with his friends, and playing with LEGOs, Transformers, and Shrinky Dinks.
Perry is another CCP child from Sanford NC. She was a healthy and active 4-year-old when she was diagnosed with Wilms Tumor in September 2021 after taking a tumble in her backyard. A trip to Levine Children's Hospital in Charlotte confirmed her parents' worst fear: cancer. Perry has been responding well and will complete her treatment this month, and will ring the bell in August!
"Children's Cancer Partners provides needed care and assistance to children and families facing their toughest days," said Dr. Stuart Gold of UNC Health's Pediatric Hematology-Oncology unit. "We are proud to work with CCP to ensure North Carolina children get access to the resources they need."
CCP serves over 1200 children in North Carolina, and will assist more than 2,000 children across the Carolinas by the end of this year. On average, families confront costs of over $10,000 in transportation, food, lodging, special home care and other needs not covered by insurance. Some face far greater costs when their child is referred to out of state specialized treatment.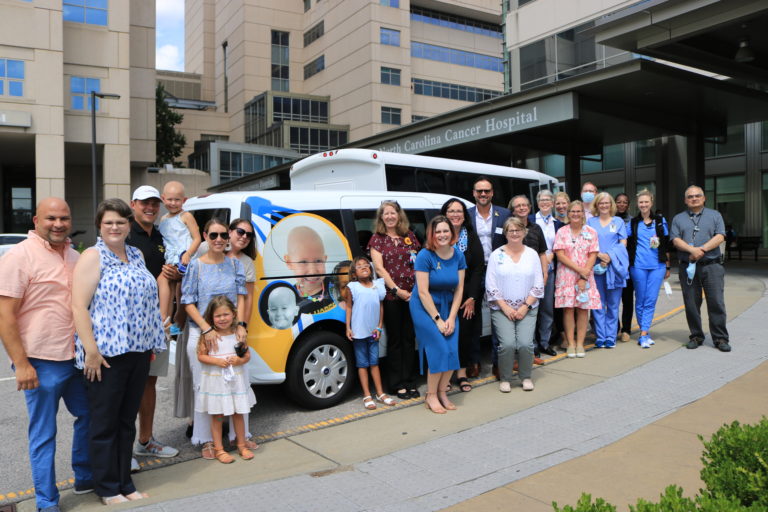 The van was made possible through a grant from The Cannon Foundation, a North Carolina-based philanthropy that provides capital and equipment funding for organizations across North Carolina. With The Cannon Foundation's donation, North Carolina children with cancer and their families will have easier access to needed supplies that food stamp benefits cannot be used for. Those products include things like diapers, paper products including toilet paper, and soap products. The van will also allow CCP advocates to visit and assist CCP children during their treatments and provide additional after care support.
"We are proud to support CCP, a Carolinas-based nonprofit that makes sure our children get proper access to care, regardless of how far they must travel or how expensive it gets," said Suzanne Philemon, Executive Director of The Cannon Foundation.
Last year, CCP reimbursed 1,720,165 auto miles and funded 838 hotel stays as families traveled to 11 states outside of the Carolinas for life saving pediatric cancer treatment. This year it expects to assist an estimated 8,000 children, caregivers, and siblings.
You can hear from a few of our families and watch the van reveal here.
---