That is what Children's Cancer Partner's (CCP) new Nexus Platform will help us do for our children and their families, and our hospital partners too. Launching in the beginning of 2023, the CCP NEXUS will:
allow caregivers to submit their support requests and expense records online, saving time
enable CCP staff to respond more rapidly, and make deposits directly into family bank accounts instead of mailing paper checks
give treatment centers the ability to refer newly diagnosed children immediately and more easily through dedicated and secure online hospital portals
help CCP family advocates and treatment center social workers to share information more swiftly to ensure the best coordination of support
Give parents and caregivers easier ways to learn of new programs, events and caregiving information – and respond more easily too
All of these important improvements are made possible by a unique collaboration of funders, and more than a year of planning by CCP, led by Director of Family Programs, Shannon Brown, MSW, LCISW. The funders – the Fullerton Foundation of Gaffney, SC, the Timken Foundation headquartered in North Canton, Ohio, and the Foundation for the Carolinas Longleaf Fund of Charlotte, NC – provided grants totaling $182,000, each according to their respective funding priorities.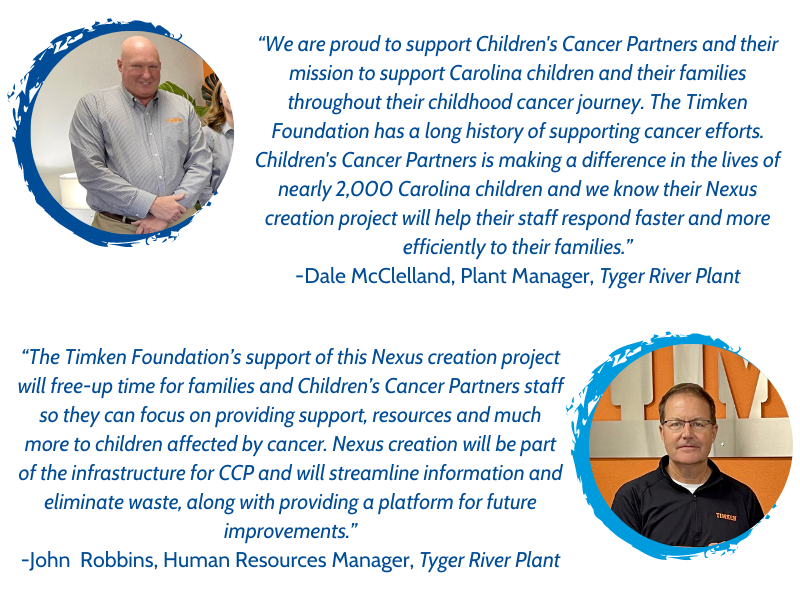 "Doing our work more swiftly and efficiently means that more of our limited dollars are available for the steadily growing number of children," noted CCP Executive Director, Laura Allen, "so it is especially impressive that three funders, each with their own priorities, came together to help us take this fabulous step forward."
The Fullerton Foundation seeks innovations that improve healthcare, Timken has numerous manufacturing centers in the Carolinas and "gives back" to the communities that surround them, while the Longleaf Fund focuses on several cities that are within the CCP service territory. They all found in CCP's NEXUS Project ways to advance their grantmaking goals. The reductions in time to make referrals and deliver support, administrative and postage costs, all add up to helping more children faster. Addition by subtraction!
---